ELECTION 2023 RESULTS
We're pleased to share these results of the Nov 7 election! From Judy Villa – "Much credit goes to our excellent candidates who campaigned with a strong message and consistent dignity. Our Democrats' message resonated with voters who were ready for openness and inclusiveness in town government. Special thanks to CDWC's Advocacy Committee Chairpersons Diane Visconti and Ellen Bartley, and a special shoutout to Pat McKinley for her tireless work wearing many hats".
LET'S KEEP THE MOMENTUM GOING IN 2024!
COUNCIL AT LARGE (voters selected up to five candidates)
Gregory Wolff, D, 3,551
Deena Allard, D, 3,601
Peter J. Talbot, D, 4,023
A. Fiona Pearson, D, 3,741
Louis Todisco, D, 3,530
David J. Borowy, R, 3,452
Sylvia Nichols, R, 3,455
John Milone, R, 3,335
Sandy Pavano, R, 3,227
Tim Slocum, R, 3,597
COUNCILMEN
1st District:
David Veleber, R, 1,149
2nd District:
Jim Jinks, D, 1,065
Tucker Deming, R, 765
3rd District:
Don Walsh, R, 796
4th District:
Patricia Cramer, D, 1,057
David Nastri, R, 845
TOWN CLERK:
Patti King, D, R, 7,102
BOARD OF EDUCATION: (voters selected up to four candidates)
Anne Harrigan, D, 3,978
Anne Marie Cullinan, D, 3,824
Mark Ecke, D, 3,981
Tim White, R, 3,616
Jeffrey Falk, R, 3,496
Faith Ham, R, 3,433
Tom White, R, 3,268
BOARD OF ASSESSMENT APPEALS:
Harold Jordan Jr., D, 4,618
Laura M. DeCaprio, D, 4,866
PLANNING AND ZONING COMMISSION: (voters selected up to three candidates)
John Kardaras, D, 4,125
Casey Downes, D, 4,382
Jeffrey Natale, R, 3,987
PLANNING AND ZONING COMMISSION ALTERNATE:
Christopher Affie, D, 4,361
James R. Parys, WI, 298
ZONING BOARD OF APPEALS: (voters selected up to three candidates)
Eric Bruchett, D, 3,551
Debrah Manke, D, 4,017
Harold Orlinsky, D, 3,746
Jackie Cianci, R, 3,331
Doug Noble, R, 3,267
ZONING BOARD OF APPEALS ALTERNATE:
Ginny Ogurick, R, 4,262
CONSTABLES: (voters selected up to two candidates)
Ronald A. Gagliardi, D, 3,873
Breina Schain, D, 3,537
Randy Raines, R, 3,209
Michael Rapetski, R, 2,980
March 29, 2023 CDWC VP Lynn Dawson Nominated for CT Superior Court Judge
Governor Lamont Nominates 20 Jurists To Serve as Judges of the Connecticut Superior Court
Lynn Alvey Dawson, 64, of Cheshire: Dawson graduated from Boston University and obtained her Juris Doctor degree from Suffolk University School. She currently is a solo practitioner at the Law Office of Lynn Alvey Dawson, where she represents a diverse clientele that includes children and adults in family, juvenile, criminal, and probate matters. She has practiced law for 34 years.
March 28, 2023 Rob Samson On Gun Violence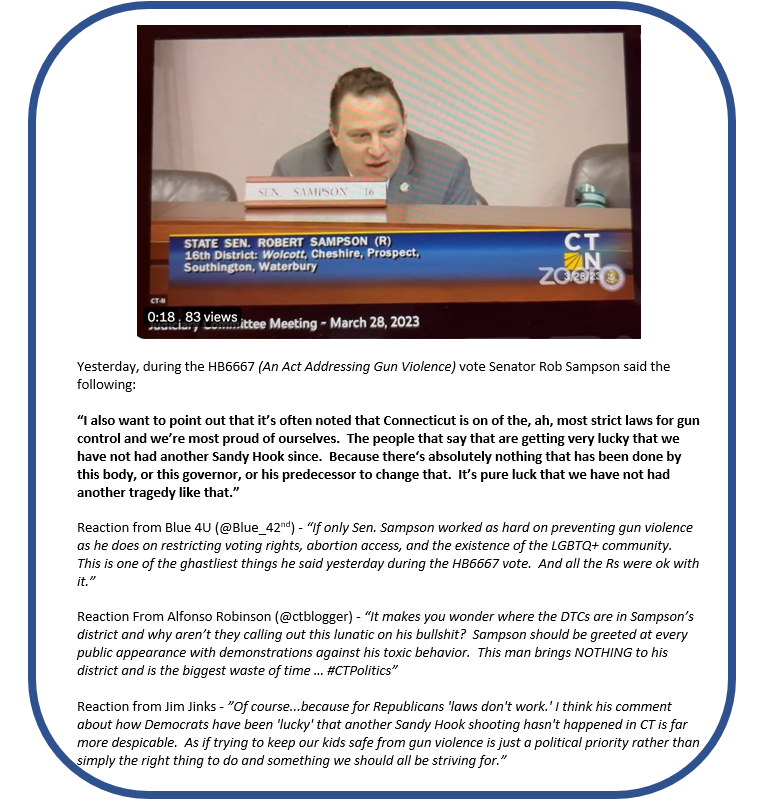 Feb 11, 2023 New State Rep Jack Fazzino Meets with CDWC
by Judy Villa
State Representative Jack Fazzino (D-83) met with the Cheshire Democratic Women's Club recently to thank members for their support and give an update on his activities since being sworn in just a month ago. Appointed Vice-Chair of the Commerce Committee and member of General Law and Public Safety & Security Committees for the 2023 Legislative Session, he is anxious to improve consumer protection, data privacy, and public safety. Committed to legislation that would assist police, firefighters, and teachers, he credited Rep. Liz Linehan as a mentor in legislative procedures.
With cautious optimism, Jack gave an overview and answered questions on the governor's budget, proposed tax credits, and retirement fund thresholds, alluding to the complexities of bonding covenants, revenue caps, income tax, the rainy-day fund, and pension liability. Members cheered at his report that universal school meals will be funded through June 30th at a cost of $60 million. He also responded to a query about women's issues, citing the Reproductive Rights Caucus and the early stages of the Safe Harbor Fund in our state as well as the expansion of reproductive services and increased administrative response to sexual/dating violence on college campuses—information met with applause.
He is deeply committed to plasma donation research that can advance diagnoses of illnesses and autoimmune disorders, working with the Public Health Committee seeking to pass regulations for collaboration with pharmaceutical companies. Jack shared that nursing home reforms are a priority for this session.
He also voiced great hope for Early Voting to be instituted for this year's municipal elections. Tapping into CDWC's mission to get more young people to the polls, he hopes to invigorate teens and those in their 20's and 30's who might see him as a mentor. Complimenting the advocacy of the CHS Young Democrats, he said their dedication and follow-through are the most outstanding in the state.
We are thrilled with Representative Jack Fazzino's energy and dedication and proud we worked on his campaign for election to the 83rd.
Feb 6, 2023 Rally Against Gun Violence, Hartford
Helen Wilson
Attorney General Tong held a rally in Hartford on gun violence, restraining orders, and domestic violence today and our own Helen Wilson was there! AG Tong, Senator Blumenthal, and others spoke passionately of their commitment to protect Connecticut's strong Domestic Violence laws.
The Texas ruling, which all described as an attack on women and 'not real law' doesn't impact Connecticut's current laws. Senator Blumenthal said he will work on legislation to ensure women are protected. The greatest threat, of course, is if the Texas ruling gets upheld by the United States Supreme Court.
Cheshire Police Chief Neil Dryfe, President of the CT Association of Police Chiefs, also spoke about their commitment to protecting victims of domestic violence. From a law enforcement perspective, cops would be in greater danger if they could not get guns out the abusers' hands.